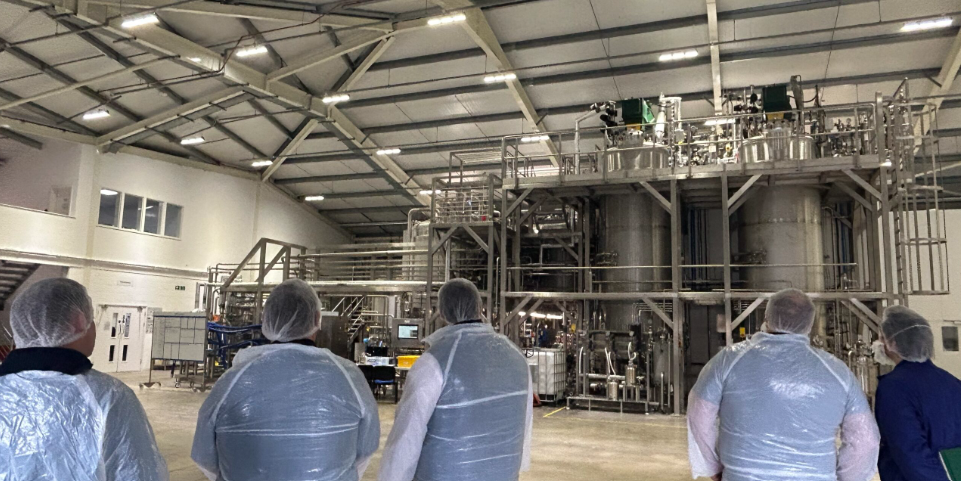 Ever Wondered Where the Flavour for Processed Cheese Comes From? The Manufacturing Wales Tour of Biocatalysts Gave The Answer.
Nestled in Nantgarw is the answer to this question: Enzymes. Biocatalysts, celebrates its 40th anniversary and has seen a 15% pa growth over recent years. Over 100 employees work in this enzyme business that supports both the food and pharmaceutical industries. As part of a multi-national business across, Holland, Germany and USA , Biocatalysts uses cutting edge science to explore and commercialise new ways of using enzymes.
What does that mean? We all know that processed cheese is quite different from dairy cheese, and in order for it to be more like traditional cheese it needs a cheesy flavour. It is a Biocatalysts enzyme that is added to the production process that transforms the flavour in production. You may also know that in medicine maggots have been used to help remove dead flesh to support healing. It is the enzyme in the maggot that is the active part of this process, so by fermenting the enzyme and adding it to wound dressings the healing can take place without the need for maggots. Other Enzymes from Biocatalysts can also be used in a wide range of applications from Mayonnaise to Pharmaceutical catalysts, and in their Dutch business enzymes can be added to bread mix to ensure better rising and improved shelf life of the loaf.
With future expansion imminent, from a self-financed £12 million investment this will enable Biocatalysts to grow and enhance their current wet and dry formulating capabilities and fermentation processes. It will enable them to find new and novel uses for enzymes that will continue to improve both food and health products for the future, whether this is creating formula milk for lactose intolerant babies, or finding alternatives to sugar.
Members of Manufacturing Wales were very impressed by both the production techniques and the manufacturing processes at Biocatalysts' Nantgarw site. The tour brought together different manufacturers to discuss production, shift management, skills audits, health and safety and digitisation amongst many other things.
Bryan Austin of Renishaw said,
"The tour of Biocats was a real eye opener for me, coming from a completely different market sector I could see how some of the disciplines being applied to the manufacture of the Biocats product could easily be applied to what we are doing and could bring tangible benefits."
Darren Williams of Stately Albion added,
"The tour was great, and I took a lot from the visit. Although we are miles apart in what we produce the methods and systems are much the same through our business."
Robert Price, Stately Albion agreed and quoted Charles C. Noble
" You must have long-range goals to keep you from being frustrated by short-term failures." He mentioned this in relation to some of the building challenges faced by Biocatalysts in their expansion. He added "I think it's something we can all relate to in our roles, there will always be setbacks, however much we plan, it's important to remain focused on the long-term mission and not allow those setbacks to discourage us from our long-term goals "
Rod Parker, Gwalia Health explained why tours like this are important for his business.
"It always amazes me what great hidden gems of businesses and services we have in Wales. Biocatalysts is no exception, continually growing and evolving into the business of excellence that we were privileged to visit. It was great to meet and learn that other businesses and leaders whom identified the same trading and business challenges that we face, no matter the sector and business activity, these challenges are common. The tour was extremely impressive and informative with plenty of energy radiating from the staff. "
Martin Hughes, Atlantic Service Company gained a lot from the tour,
"The tour was fantastic and incredibly insightful. I was particularly impressed with the ingenuity in the fermenting part of the factory where they were able to not only reduce footprint, but automate the process so well. They should be incredibly proud of everything they have done to date, and I am intrigued to see how they get on with their ambitious plans."
Karl Couch, Cardiff Met was impressed,
"it was evident that the individuals involved genuinely wanted to provide a complete overview of the business. Although from different aspects of manufacturing I'm sure that everyone who attended learnt something valuable. I hope many future benefits in collaborating with Cardiff Met in the future".
Manufacturing Wales brings together industry manufacturers and academia to discuss processes, how production is managed and learn new ways of working from each other. If you are manufacturing in Wales, please get in touch with heather@manufacturingwales.com who can explain how being part of this industry network can support your business growth.